UPSC SCRA 2014 Final Results declared !
UPSC SCRA 2014 Final Results
UPSC SCRA 2014 Final results declared.Read below for more details.!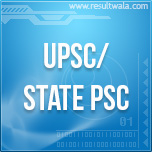 Union Public Service Commission has announced the final result of Special Class Railway Apprentices Exam,2014.Candidates have been selected on the basis of performance in written exam held on 12th January,2014 followed by Personality test from from 7th July, 2014 to 16th July, 2014.A total of 57 candidates have been recommended for appointment by UPSC. Marks obtained by candidates will be made available after the 15 days of publication of results.For any clarifications about the recruitment/exam, candidates are advised to visit UPSC's facilitation center in its campus.Candidates may check their results below.
Alternatively, visit the official website of UPSC