JEE Advanced Admit Card 2014 is now available to download.Joint Entrance Examination Advanced Admit Card will be available till 24th May.All those candidates who have qualified for Advanced exam can download their admit cards using their Registration Number and Date of Birth.The entrance exam for admission to prestigious IITs will be held on 25th May,2014 at several centers across the country.Candidates may download their admit cards below.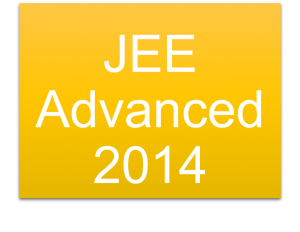 (Clicking on the link will take you to IIT Advanced admit card portal,where you will be download your admit card using your credentials.)
About JEE Advanced : JEE Advanced is conducted by zonal IITs (Bhubaneswar, Bombay, Delhi, Gandhinagar, Guwahati, Hyderabad, Indore, Jodhpur, Kanpur, Kharagpur,Madras, Mandi, Patna, Roorkee, Ropar, Varanasi & ISM Dhanbad) Only Top 1.5 Lakh students who appeared in JEE Mains exam qualify for Advanced.The competitive exam is an entry gate for admission to the finest engineering institutions in the country.